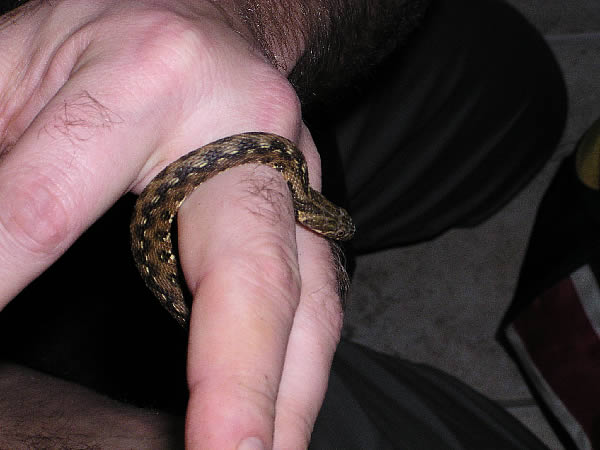 Natrix maura
The viperine snake is found in the southwestern part of Europe from Schwitzerland and north Italy to the Iberian peninsula and the northwestern part of Afrika. It is a small snake that can reach about 1 meter but is normally 55-60 cm. Females are larger and heavier than the males. The are grayish or brown with to lines of blotches that often is connected making a zigzag band very similar to the one on european vipers.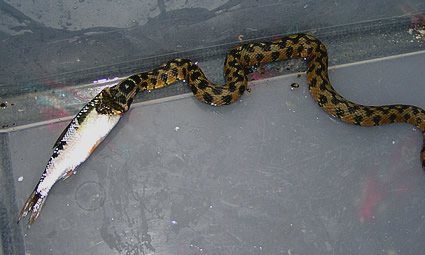 Natrix maura male eating
This snake is always found colse to water, where it can hunt its prey. The habitat includes lakes, ponds, all kinds of streams and swamps. They are often found basking on the edge of the water on logs or stone and flee to the water for security. They are perfekt swimmers and divers and can be submerged for a long time. If they are caught they start hissing and often makes skinattacks. They have a nasty habbit of spraying a smelling fluid and feaces on their attacker. They prey on fish, amphibians and tadpoles.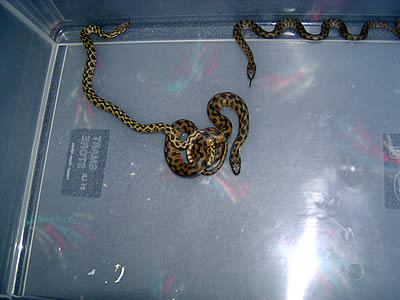 Natrix maura
The viperine snake is a very easy and interesting pet. They don`t need a large or high terraria and only need a large waterbowl and a heating place. They like swimming but needs a dry place to avoid skin infections. They are day active and very curious. After a short time they get pretty tame, but often continues to hiss when disturbed. They are fed on a diet of live freshwater fish or newborn mice. They are fantastic hunters catching easily live fish in the water. To avoid problems with lack of B-vitamin always use suplement of B-vitamin when feeding frosen fish.