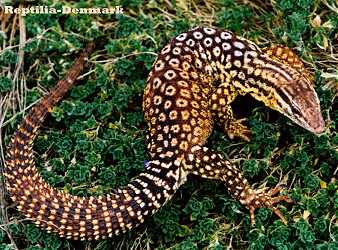 Adult male. Captive bred.
The ridge-tailed monitor lives in the Northern part of Australia. Three subspecies are described so far, but most animals kept in captivity belong to the subspecies Varanus acanthurus brachyurus, originating from the area around Mount Isa. Both sexes can be up to 70 cm but normally smaller 60 – 65 cm.
Adult very dark male.
This species is the most common Australian monitor in captivity, and they are very easy to keep and breed. Feed them mainly on large insects and occasionally baby mice. They grow very fast and can be mature in less than a year. We keep ours in groups of males or females and only introduce them to each other for breeding. This prevents most of the aggression between the monitors that can turn fatal. Hibernation is not mandatory for breeding but a 2 months cooling period seems to improve our breeding results.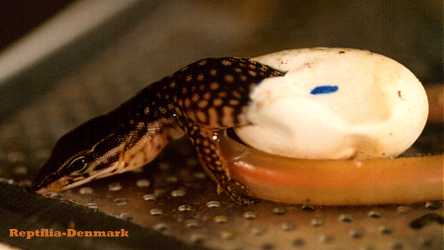 Hatchling.
We kept 5 different strains all originating from the area around Mount Isa previously.